Compartir en:
Description
(This page is under development). Citizen participation in the cultural and educational life of residents is an essential element for the development of Alcorcón and for generating a municipality with opportunities and capacity for progress. The Citizen Participation service deals with the promotion of social entities and the active citizenship of the municipality, providing information services, advice, training and subsidies.
objectives
Establish fluid channels of communication between the city council and citizens.

Strengthen the sociocultural fabric and encourage their participation in municipal life.

Consolidate informal associations, contributing to the citizen meeting, to the socialization and recovery of public spaces in the city.

Promote, advise and train the social entities of the municipality.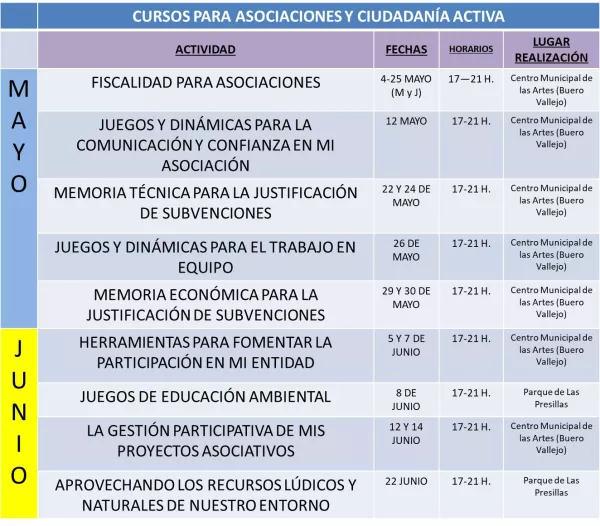 El Servicio de Formación para la Participación Social ofrece una batería de cursos dirigidos a entidades sociales y ciudadanía, con el objeto de facilitar herramientas y técnicas que den respuesta a las necesidades formativas de las entidades y grupos sociales de Alcorcón. En la actualidad, las inscripciones están abiertas a través del teléfono 610 43 52 63 o del correo alcorcontalleres2030@gmail.com . Asimismo también se pueden realizar a través del formulario. También podría ofrecerse formación a demanda de las entidades. Podéis encontrar toda la información de los cursos en el apartado de documentos.
2 cols
Alcorcón Participa 2030 es el nombre del proceso participativo que se ha realizado con más de 500 personas del municipio para la elaboración de un diagnóstico social  y los borradores de un nuevo reglamento de Participación Ciudadana y un Plan Municipal de Participación, que fue presentado en dic
Este proceso ha ido acompañado de una web que puedes consultar al lado. ¿Quieres más información? Envíanos un correo a participacionciudadana@ayto-alcorcon.es
Agenda Social - Envíanos las actividades de tu asociación
No hay eventos próximamente.
Asesoría Integral para Asociaciones y Clubes
El servicio de Asesoría Integral para entidades va dirigido a todas aquellas entidades sociales que trabajen en Alcorcón y a la ciudadanía que quiera crear un colectivo o asociación, o quiera llevar a cabo un proyecto colectivo. La asesoría también presta servicios específicos de asesoramiento en los ámbitos jurídico y fiscal (en colaboración con una entidad especializada), y realizará asesoramiento y acompañamiento en la elaboración y desarrollo de proyectos internos y externos de la entidad.
Este servicio se presta de manera presencial y/o telefónica en: Asesoría Integral para Asociaciones Centro Municipal de las Artes C/ Robles, s/n Para cualquier información o consulta inicial: 91 664 85 02//91 664 84 80 participacionciudadana@ayto-alcorcon.es