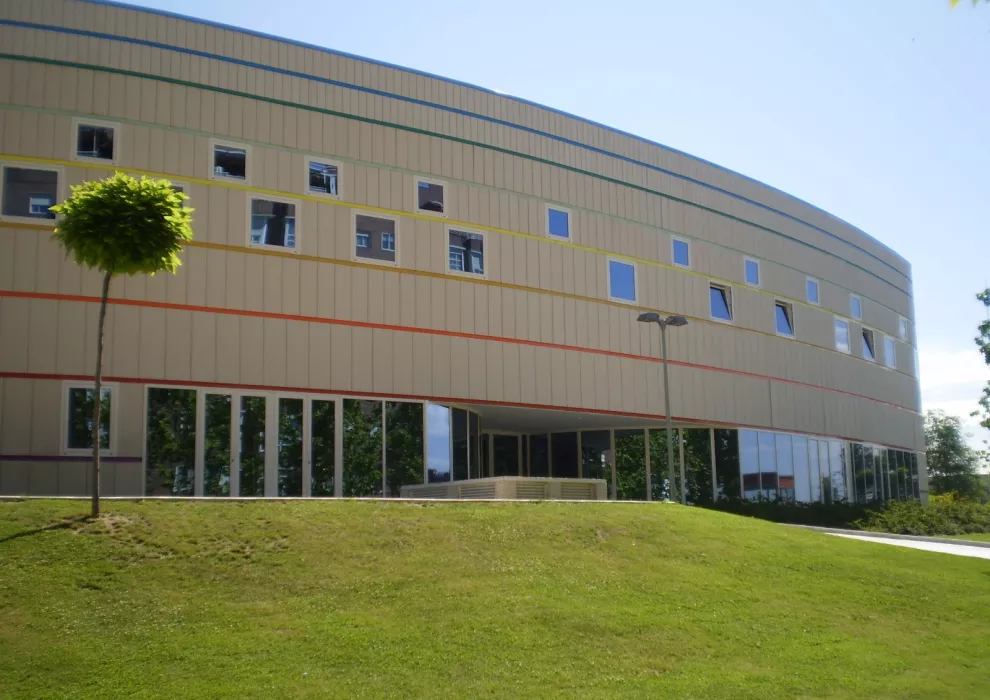 VIÑAGRANDE CULTURAL CENTRE
Description
With a special presence in the neighbourhood, from which it receives its name, it is located in the northern part of the municipality, in the neighbourhood of San José de Valderas and the urban development of recent decades around the Avenida de la Libertad and the pine forest.
It is built around two different buildings, the centre and the theatre, which are connected by a common space called the agora.
The cultural centre and the theatre united by the agora occupy a total space of 6000 metres, and the theatre has a capacity of 257 spectators. This modern theatre, which has a stable weekly programme with music cycles of the most varied styles, theatre, dance, has a system of telescopic bleachers that are set back and allow for other uses, not only for artistic performances.
The centre also hosts courses, workshops and seminars, as well as the participation of various groups, associations and social and cultural entities.
In the Centre is located the Junta de Distrito Numero 2.
Courses and workshops for adults
Dance and movement: Pilates, zumba, gym -aerobics, gymnastics to prevent osteoporosis, varieties, taichi, yoga, ballroom dancing, flamenco, sevillanas, postural correction, chicung.
Humanities and knowledge: Getting to know the community of Madrid better, legends of Madrid, illustrious characters, history of art, literary gatherings, cultural expansion.
Social skills: Improving memory, mindfulness, renewing the mind.
Languages: English, French
Computers and photography: Computers, Android, photography
Visual arts: Drawing and painting, portrait, painting techniques, landscape painting
Courses and workshops for children
Visual Arts Workshop: Painting and handicrafts, comics, manga and illustration.
School of dance and movement
Urban and modern dance for adults and children
Registration, information and contact for courses and workshops
Bitácora Association
Email: maria.mesa@edyoc.es
Telephone: 610 70 91 41
Web: www.bitacoracultura.com
Adespro
Email: cursosalcorcon@adespro.org
Telephone: 917 86 83 84
ACAYA Association
Email: acaya1@hotmail.es
Telephone: 660 60 41 62 (cursos de mañana) y 606 96 79 10 (cursos de tarde)
Amigos de Don Quijote
Telephone: 911 12 72 60
DUYUDU Association
Email: marisagardom9@gmail.com
Telephone: 659 93 65 64
AECOSAR
Telephone: 914 31 22 58
Candilejas Association
Telephone: 911 12 72 60
La Vereda Association
Telephone: 911 12 72 60
Taichi y Salud Association
Telephone: 627 33 03 22
AJEA
Telephone: 911 12 72 60
Historia de la cultura Association
Telephone: 911 12 72 60
Mente y Energía Association
Telephone: 911 12 72 60
Various associations are located in the centre:
Historia de la Cultura
La Vereda
Amigos de Don quijote
Aecosar
Candilejas
Duyudu
ACAYA
AJEA,
Mente y Energía
Taichí y Salud
Grupo de teatro Siete Cantaros
Botón de Oro teatro
Las Moiras Teatro
Acata Teatro
How to get there
From Madrid:
Metro line 10. Joaquín Vilumbrales
Bus from Príncipe Pio: 511
schedule
Monday to Friday from 9.00am to 9.00pm.
On weekends, the timetable may change depending on the theatre's programme.