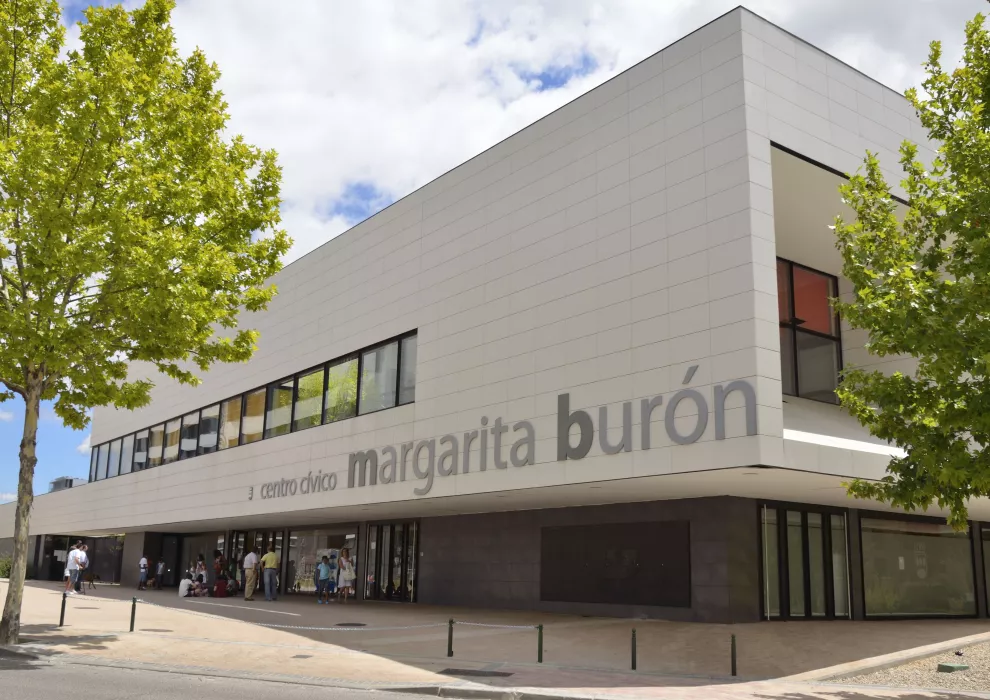 MARGARITA BURÓN COOPERATING CULTURAL CENTRE
Description
The centre pays tribute to Margarita Buron, a resident of Alcorcón, who died in Ethiopia while working as a volunteer in a reforestation project. With her memory, the intention is to recognise the work of all volunteers in Alcorcón.
Inaugurated in December 2008, its main objective is to convert the centre into an open space for meetings, training and leisure, with the active participation of neighbourhood associations and residents. Among the services available at the centre, with more than 2,000 square metres, is a theatre with 104 seats.
It has a wide and varied range of courses and activities, both for adults and children.
We attend to requests for the cession of spaces for Associations and various collectives to carry out their activities, both regular and occasional, as well as being the headquarters of some of these entities. We also collaborate with other councils in our municipality in the organisation of activities and the cession of spaces.
Through the exhibitions we support the dissemination and artistic and artisan production of local artistic and artisan collectives.  
Our project at the Margarita Burón Centre: a lively place for meeting, training and promoting creativity.
Courses and workshops for adults
Visual Arts: Drawing, painting, watercolour, landscape...
Humanities and Knowledge: History, History of Art, History and Art of Madrid, Get to know the museums. Creative writing, introduction to astronomy
Dance and Movement: Zumba, pilates, ballroom dancing, salsa, bachata, belly dancing, yoga.
Social Skills: Stimulate your memory, mindfulness, social skills.
Computers and Photography: Photography initiation, get the most out of your tablet.
Languages: English, French.
Music: Guitar.
Cooking: Traditional cooking, economical cooking, easy cooking, world cuisines, our menu of the day, festive cooking, microwave cooking, vegetarian cooking, fusion cooking, signature cuisine, pastry workshop, baking. Wine tasting, beer tasting.
Theatre and Cinema: Live Stage, theatre-humour-therapy. Film scriptwriting. Short film workshop.
Courses and workshops for children
Plastic Arts: Painting for children. Painting as a family. Creativity, plastic education and drawing.
Dance and Movement: Coreokids, yoga.
Music: Guitar.
For babies and families: Early stimulation. Growing up as a family.
Cooking: Chiki Cocina.
Registration, information and contact for courses and workshops
Bitácora Association
Email: maria.mesa@edyoc.es
Telephone: 610 70 91 41
Web: www.bitacoracultura.com
MUEVE-T Association
Email: noeliacesartop@gmail.com
Telephone: 686 10 65 24
Adespro
Email: cursosalcorcon@adespro.org
Telephone: 917 86 83 84
LISARCO Collective
Email:  colectivolisarco@gmail.com
Telephone: 635 74 66 59
ACAYA Association
Email:  acaya1@hotmail.es
ESET Cultural Association, Training and Family
Email: asociacionculturaleset@gmail.com
Telephone: 911 12 72 30
KARACOL Association
Email: adsasociacion@gmail.com         
Telephone: 628 58 90 86/659 61 28 01
ART-CILLA Association
Email: pherrero27@gmail.com
Telephone: 635 56 00 83
Its approach to work also includes collaborations with other municipal areas such as childhood, feminism, the elderly, social services...
It is also a meeting place for local associations, where some of them have their permanent headquarters of local associations that develop their projects in this space. Associations also participate from time to time in activities during the course.
Centrally located associations:
Isósceles Theatre Association
Painting collective Vettonia
Peña Flamenca Salmerón "La Uvita" Flamenco Club
Intercultural Association Bwato
DRUMLINE pedagogical musical association
Manantial Foundation
Biste Association
Tururaina-Coro Sei cantare Association
Agrupación Musical Santa Cecilia
FACUA
"Siete ojos" Patchwork Association
AIREE Association
                 
Technical residencies
Within the programmes of technical and scenic residences carried out by the Department of Culture, Participation and the Elderly, the theatre group AMAS ESCEN has this centre as its headquarters and rehearsal space.
How to get there
From Madrid and Alcorcón:
Metro Line 12: Parque Oeste     
RENFE: Line C5: Las Retamas
schedule
Monday to Friday from 9.00am to 2.00pm and from 4.00pm to 9.30pm.
Except public holidays.