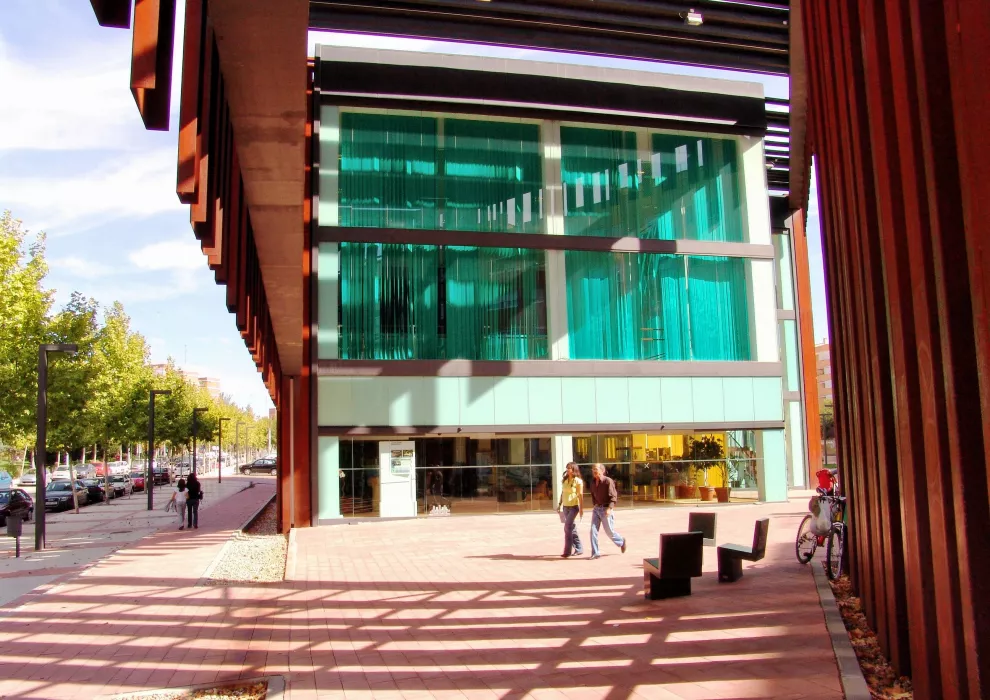 LOS PINOS CULTURAL CENTRE
Description
The Los Pinos Civic Centre is located in the neighbourhood of La Retamas, next to the Parque de la ribota, in the street that gives it its name, and its vocation is that of a neighbourhood centre that aims to respond to the different audiences that seek to develop their personal growth in different areas in this cultural space.
In this centre, the active participation of all the neighbours of the area is sought and the DISTRICT COUNCIL Nº3 is located there.
In this centre, participation is sought, where a great social and cultural activity converges as it is a meeting place for its closest neighbours and others who visit it from different places.
The cultural offer is aimed at all sectors of the population, young and old, who easily find in the classrooms activities and a cultural offer in accordance with their demands.
The centre has a theatre with 220 seats.
Among the activities that are carried out are courses and workshops in a wide range of techniques:
COURSES AND WORKSHOPS FOR ADULTS
Gastronomy.
Social Skills.
Humanities and Knowledge: Keys to Modern Art: History of Madrid.
Languages.
Computers and Photography: Use of mobile phones and tablets, Internet and social networks, digital photography. 
CHILDREN'S COURSES AND WORKSHOPS
Social skills: Open classroom in the family, early stimulation for babies.
Plastic Arts: Creativity, plastic education and drawing.
Gastronomy: Little Chefs.
Languages: English.
Music: Guitar.
You can find the headquarters of ESCUELA DE DANZA Y MOVIMIENTO
Dance for adults and children: contemporary dance, pre-dance, elementary dance. Modern dance, urban and classical dance.
Movement: Yoga, pilates, ballroom dancing, bollywood, zumba.
REGISTRATION, INFORMATION AND CONTACT FOR COURSES AND WORKSHOPS
ESET Cultural Association, Training and Family  
Email: asociacionculturaleset@gmail.com
Telephone: 911 12 72 10
ADESPRO
Email: cursosalcorcon@adespro.org
Telephone: 917 86 83 84
Asociación Cultural Aula Lúdica Matritense (Matritense Cultural Association)
Email:  info@esliceo.com    
Telephone638 01 42 59/638 01 42 60
AGON in Action Association
Email: agonenaccion@gmail.com
Telephone: 649 92 57 65
Its approach to work also includes collaborations with other municipal areas such as childhood, feminism, the elderly, social services...
It is also a meeting place for local associations, where some of them have their permanent headquarters of local associations that develop their projects in this space. Associations also participate from time to time in activities during the course.
Centrally located associations:
Parque Mayor Neighbourhood Association
Don Quijote Neighbourhood Association
ESET Early Stimulation
ADESPRO...
                 
TECHNICAL RESIDENCIES
As part of the technical and performing arts residency programmes run by the Department of Culture, Participation and the Elderly, the Metamorphosis Dance group has this centre as its headquarters and rehearsal space.
How to get there
From Madrid:
Bus: 516, from Principe Pio
From Alcorcón:
Line 2
schedule
Monday to Friday from 9.00am to 2.00pm and 4.30pm to 9.30pm
Saturdays from 10.00am to 2.00pm and 5.00pm to 8.00pm
Sundays from 10.00am to 2.00pm