Ensanche Sur Sports Center Project
Ensanche Sur Sports Center
Alcorcón will have a new sports space in the Ensanche Sur, a project that will have the participation of the associative fabric, organizations and citizens of Alcorcón.
The Alcorcón City Council has opted for the creation of a new sports complex in the Ensanche Sur neighborhood, in order to meet the needs and demands of residents. For this, it has a plot -located between the streets Martin Luther King, Oceanía, Gabriel Mistral and Diversidad- with an area of 30,611 square meters.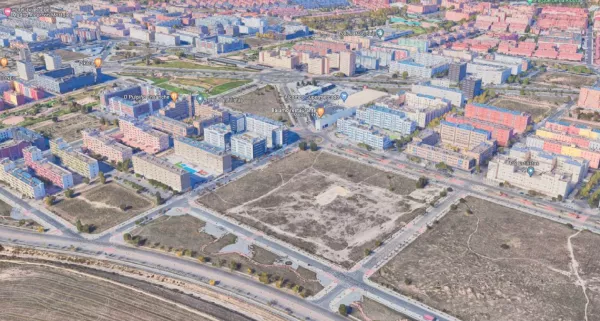 spaces
This complex has two differentiated elements: on the one hand, the multipurpose pavilion and, on the other, various spaces for the development of aquatic activities and facilities for carrying out various sports disciplines.
Multipurpose pavilion and other spaces
Multipurpose pavilion with a capacity of at least 500 spectators
Indoor multi-sport track with a total surface of 45x32 meters
Useful 40x28 playing court, with longitudinal marking of regulatory futsal field, longitudinal marking of regulatory basketball field, marking
cross section of two regulatory basketball fields, and cross marking of two regulatory volleyball fields. (Regulatory measures, according to NIDE standards of the Higher Sports Council) to allow the practice of futsal, handball, basketball, volleyball and gymnastics, among others, that it can host large events of all sports disciplines.
It will also have the following complementary rooms: reception hall, first-aid kit, cloakroom, changing rooms and toilets, doping control rooms, offices, multi-purpose room, ticket offices and ticket sales and storage.
Other spaces:
Local changing rooms for aquatic area.
Locker room for outdoor sports facilities area.
Local catering for the complex. Said premises will be designed to have direct access from the outside, independent and complementary to access from the sports facility. Likewise, it must also provide direct service to the aquatic area during its opening periods.
Offices and Administration.
Warehouses.
The air conditioning of all these areas will be by the Geothermal system, as an environmentally efficient, sustainable and renewable proposal.
aquatic zone
Outdoor pools:
Recreation pool of 25x12.5 meters.
Children's glass of 12x12 meters.
Technical room for purification and control.
Outdoor meadow area.
Restoration and picnic area.
outdoor sports facilities
Outdoor beach volleyball court, 22 x 14 meters. Said track will have access and communication also from the aquatic area.
Multipurpose outdoor court for futsal and handball, basketball and volleyball, 42 x 25 metres.
Stands between courts (volleyball and multipurpose), with capacity for 200 people and use in the lower part for storage of sports equipment and technical rooms.
Mixed 11-a-side football and rugby field, 100 x 68 metres, with cross markings for 7-a-side football (2) and markings for football and rugby. Compliance with the NIDE regulations of the Higher Sports Council for the practice of both sports (rugby and soccer) must also be considered, especially in terms of perimeter security area measures.
Stands for 11-a-side soccer field with capacity for 300 people and use in the lower part for storage of sports equipment and technical rooms.
Other endowments and common areas
Surface parking with a minimum of 100 spaces available.
Transit spaces, green areas and outdoor activities.
Energy efficiency
This complex includes a series of energy saving measures, both active and passive, ranging from the choice of suitable construction materials to the most suitable orientation to meet this objective. In addition, it will use efficient air conditioning systems that include photovoltaic panels, energy production through more sustainable systems, rainwater recovery systems and lighting using LED technology.