Christmas in the Magic Forest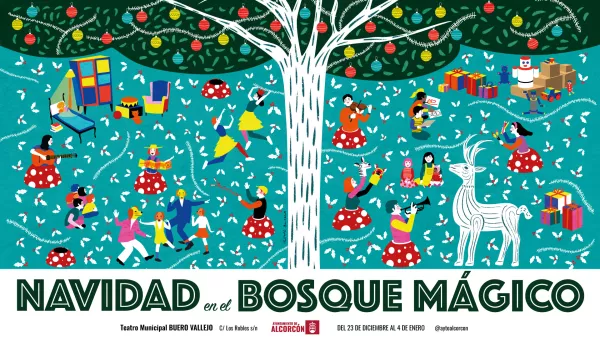 Presentation
Free activities for families at the Municipal Arts Center
From December 23, 2022 to January 4, 2023 (on December 24, 25 and 31 and January 1 it will remain closed)

Hours: From 10:30 a.m. to 2:30 p.m. and from 4:30 p.m. to 8:30 p.m.

Free access until full capacity
Opening: December 23, at 6:00 p.m. The incredible Aracaladanza Company and the fantastic beings that populate their fantasy and imaginary will take us from the street to the forest, filling the afternoon with magic and warmth.
Closing: January 4, at 6:00 p.m. Concert: "How cool are our parents' songs!" with Create Music and Art. 5 musicians on stage interacting with the public with a repertoire mainly from the eighties, so that the little ones can enjoy that music with mom, dad and the whole family. Directed by the Magician of the Party and his musical elves.
spaces
The magic of Christmas is capable of transforming the Municipal Arts Center into a magical forest where anything can happen. A giant tree will shelter all kinds of beings and will invite us to dream. More than forty integrated activities and a careful atmosphere that will introduce visitors to different magical spaces to visit:
Santa's Factory
In which Santa Claus will be working with his elves, preparing gifts for the little ones and where they can leave their gift request letter. This installation will have movement by automata puppets.
The Magic Room
The night before Santa Claus or the Three Wise Men comes is a magical night in which children refuse to sleep and where many incredible things happen. In this children's room, toys are magically activated.
Activities
From morning to afternoon, the Magic Forest offers a wide range of activities: workshops, storytelling, theater, concerts, puppets, dance and surprises by the most interesting performing arts companies in our country.
More information: https://bosquemagiconavidad.wordpress.com
All workshops are free and require prior reservation.
You can sign up at talleres.bosquenavidad@gmail.com from December 15. Places will be saved according to the order of registration, having to be 15 minutes before the start of the workshop to verify the place or it will be free. You can also try your luck and go to the theater the same day of the activity, if there are free places, you can access the workshop.